Quality is alpha and omega for HACO
As our customers' demands increase, there is also a need for ever-increasing focus on quality. The most effective way to achieve these high standards, and continuously demonstrate improvements, is with a quality management system. At HACO, our quality system is certified according to the internationally recognised ISO 9001:205.
This certification helps us to implement streamlined processes, as well as improve production and quality efficiency. The quality management system covers all areas at HACO, from customer requests to final delivery to the customer.
Advantages of choosing a supplier with an ISO 9001:2015 certification
There are many advantages of choosing a supplier, such as HACO, with an ISO 9001:2015 certification.
First and foremost, with an ISO 9001:2015 certification, customer satisfaction and reliability are the main focus. Our customers' quality requirements and needs are met according to agreements, and we simply do not compromise on our quality.
The certification also helps to ensure that everyone understands the set goals of the company, the organisations' structure, and business culture. We are a stable supplier, sub-contractor and partner that always lives up to agreements, price and quality.
With more than 50 years' experience in the industry, we are a stable partner with the quality objectives in place. At HACO, we can help you with the production of round machinery in different materials. We deliver high-quality solutions within nearly all industries.
At HACO, we have our own Laser Tracker, Leica Absolute Tracker AT401. With this, it is possible to perform 3D surveying and verification tasks according to 3D models. It can also be programmed to perform other, more customer-specific tasks, for example in accordance with 2D drawings or other material.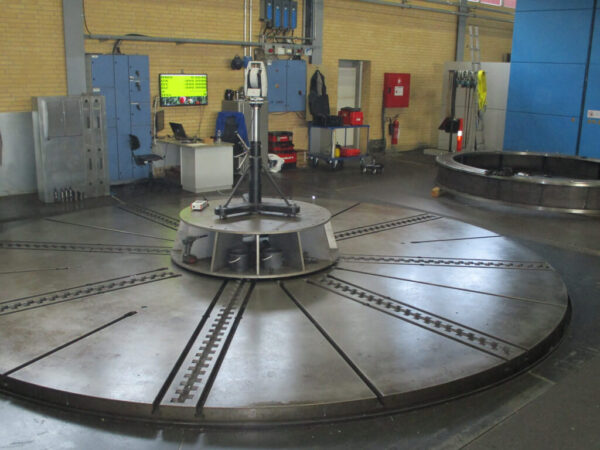 Since the acquisition of the Laser Tracker in 2014, we have used it primarily for verification tasks on major issues. The set-up of these tasks is optimal, as we have a large survey plan (6000), which ensures a flat and stable surface where items can be placed.
This eliminates any warping and moulding errors on the workpieces and provides the best starting point for any measurement task.
Our LT operators have completed intensive courses to use the Laser Tracker. In addition to this, the operators have been certified in both general and in-depth GPS courses.
HACO is also at the forefront of analytical work, where continuous analyses of critical objectives are performed, with Dim. Test or CTQ measurement. With different methods of analysis, HACO is able to showcase the accuracy of different processes to our customers. HACO can discuss optimisation of tolerance requirements etc. of customers' own products.
We have experience in the following analysis methods:
MSA – Measurement System Analysis.
Measuring uncertainty budgets according to the GUM method.
Own analysis methods according to your own internal wishes and needs.
Customised analysis work.
Quality managers and management representatives who have completed specialised courses in the wind industry, APQP4WIND.
Courses completed are
APQP4WIND – Management Awareness Training.
APQP4WIND – Specialist Training.